Cement Cannon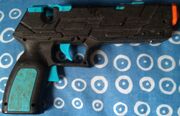 The Cement Cannon is a Shotgun weapon in Extreme Wars.
Description
The Cement Cannon is a shotgun pistol that shoots eight explosive spheres, covered with cement, which can slowly corrode other players. It possesses great damage, a decent fire rate, a great capacity and a good mobility. It is accurate in close range, but oppositely, inaccurate in long range.
Weapon Statistics
Damage: 191
Fire Rate: 56
Capacity: 12
Weight: 7
Accuracy: 8
Range: Close to medium ranges
Miscellaneous Information
Released: 8.0.0
Theme: Futuristic theme
Maps: * Construction Site
Cost: 125 gems
Level: 75
History
Long long ago, in a deep, unknown place called "Sacred Concrete", at the bottom floor, there was heavy and private experimenting with a explosive shotgun pistol. After many days of experimenting and testing, it has been successfully created. A mad scientist tested it out. He loved it, and it was very powerful. However, another user, who was a civil engineer, tested it out. He loved it, but wanted it to have a unique ability.
He experimented a specific resource that could make its explosive spheres permanently covered with corrosive cement. The experimenting was tested, and it became successful. It was also tested from long range to a few buildings. With only a couple fires, it destroyed and corroded 6 buildings. With the corrosive cement, it became even more powerful, and the scientists loved it. It is now used all around the world, as more people tried it out and loved it.
Attributes
The Cement Cannon has the following attributes:
Trivia
JustLeafy took this screenshot on a pillow.
It acts similarly to the Tiger Claws from Pixel Gun World, in terms of shooting and reloading. It is reloaded in a way like how a normal pistol is reloaded.
It shoots explosive cement balls, and each cement sphere is explosive, and the fact that there is a 50% of the cement being corrosive. It is also possible to inflict headshots with this weapon.
Despite it being called a "Cement Cannon", it is actually an explosive shotgun pistol, and not a large cannon or a heavy rocket launcher.
The Intense Rifle had a similar history.
Despite the cement normally being a non-corrosive material used for wall painting or tile placing in real life, in this weapon, it is corrosive, just to give the cement some effect.
It used to have a faster fire rate and a larger capacity, but it is now nerfed in one update because of its excessive power.
It used to generate corrosive cement puddles. Now, it doesn't.
Jack uses this weapon.
Community content is available under
CC-BY-SA
unless otherwise noted.